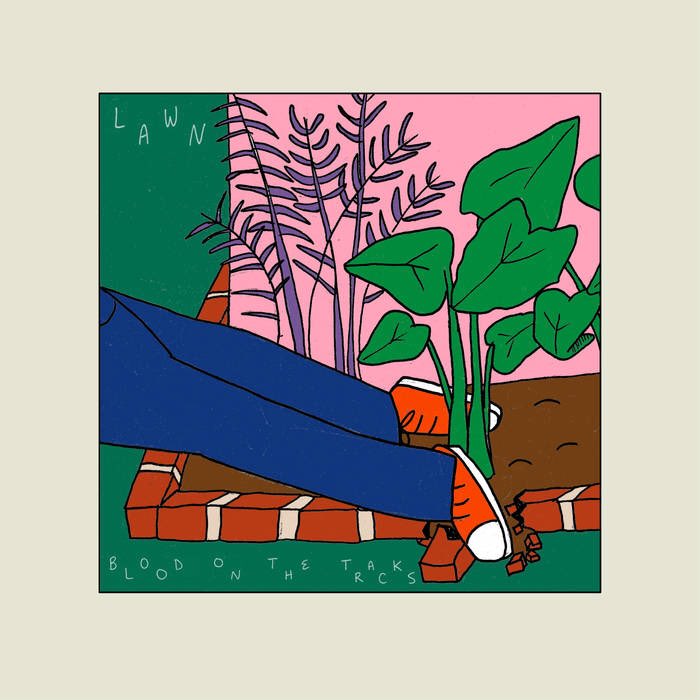 The new album Blood on the Tracks by Lawn, out now from Forged Artifacts.
It is weird how certain bands and albums come into your life; my brother is a big fan of The Gaslight Anthem, but I missed the release of
The '59 Sound
; a seminal album of that generation and now 10 years old, as if I need reminding how old I am getting.
The beauty of music and albums is that it connects with you on an emotional level. That is why some people like The Smiths more than Led Zeppelin and vice versa. Sometimes an album comes out of nowhere that connects with you on a level that is hard to explain, but you know you love the album because it is a breathe of fresh air.
One such album is the album 'Blood on the Tracks' by New Orleans based band Lawn. Oddly, the band followed me on
Twitter
before I had ever heard of them, partly because I tweet new music videos and they must have taken a punt on me.
Lawn are comprised primarily of Mac Fogler on guitar and vocals and Rui De Magahales on bass and vocals, with support from Nicholas Corson on drums and percussions and Duncan Troast on keyboards; and they prove to be a tight unit together.
So through the link on their twitter feed, I went to
Gold Flake Paint
website which carried an album stream which was released on 11th May by
Forged Artifacts
and was blown away by the simplistic 1960s feel of the tracks and with the swelling punk rock energy.
With a mixture of good songs swaying from serious to fun. There is an energy of abundant glee running throughout the album, from opener '2000 Boy' to the ear catching quality of the title track. Interspersed throughout are quick fire cuts like 'Rats' and 'Suzanne' full of fire; as well as the sheer driving force of 'Restless and Tired' which reminded me of early REM and Orange Juice.
A lot has been made in press releases that the band show the influence of The Kinks and The Beatles on their tracks, which is great to hear and there has been a plethora of bands in recent years mining the swinging Sixties for inspiration from
Lab Coast
and
Major Murphy
, evident in 'Vinnie' track 6.
The reason being is that there is a colourfulness to the music being produced, a vitality that is being lost in the programmed mainstream, music that is lovely to listen to - the type of music you can put on in the background at work or a BBQ and it slowly earworms its way into your consciousness. The music of the 1960s laid down the foundations for future musics, it was rock and roll that would eventually morph into glam, heavy and metal.
All songs start with a guitar and the music of Lawn is the type that firstly sounds great to listen to, but also sounds like fun to play - it comes full circle as they have sing-along hooks and a hum-ability not often given the credit or airplay. For this just listen to 'My Boy' track 5.
Lawn have done some shows in America recently as well as playing at South By Southwest - and this album is very much an album of context and location; hailing from the Big Easy in New Orleans there is an almost horizontal laconic ease to their performance and playing that could almost be too laidback, but this comes across in a swath of cool not arrogance.
It has been a while since an album got me this excited about and left me wanting to share with my followers in sometime; there is a track for everybody on this and it should be heard by as many people as possible with this album being one for music lovers as much as anything.
Too often albums like these get lost in the graveyard shifts of late night alternative radio or playlists, Lawn deserves to be heard by more people.
Blood on the Tracks
is out now from
Forged Artifacts.
Check out more music at
Gold Flake Paint